I've been on a search for about six months now. One hard lesson I've learned (among others) while moving into our house was that it is better to wait until you settle a bit before diving into decorating. Sure, everyone tells you that, but listening proved to be a bit more difficult. Since I'm a victim of the immediate gratification era, there is a huge temptation in me to decorate every room right away. Thankfully it didn't take long for me to realize that that mentality results in a lot of store returns, wasted money, and a corner in the basement full of decor that I may or may not ever use.
Now that we've been in our home almost a year, I've been able to see how we use different spaces, what would brighten things up on the walls or bring texture to a space, etc, etc. Is it just me, or does everyone like this sort of stuff?! Roaming through home stores is way more fun to me than it probably should be.

So, back to my hunt: a mirror.
Department stores, antique shops, boutique stores, pretty much the only thing left unturned has been the neighbors garbage. I suppose it is garbage day today though...

There's a large wall that you see as soon as you walk into either the entrance of our home. It's above the stairs, so your eye is drawn to it. From the garage door, it's immediately in front of you:


These pictures are old as dirt. They were taken the day we signed on the house. Notice the old floors, the strange light fixture and lack of paint. Just fix your eyes on the arrow and large black square.
In the overwhelming sea of white below, you could hardly tell one room from the other at that point! Here's the wall I have my eye on for one beautiful mirror to make its home. This picture was taken while standing in the entryway, with the front door to the immediate left of the camera. (Wow, it feels so strange to look at a house that bare!)
Now for the fun stuff!
Although I've had trouble finding a mirror I love at a reasonable price (I can't justify dropping 700 bucks for a mirror), I've been a bit too successful finding
pictures
that I love. I want something that is a statement piece, something fun but classic at the same time. I'd continue with my descriptive words but you may begin to realize that I'll list pretty much every description except for gothic, bamboo, or ugly. Pretty simple, eh? I do know that the mirror needs to be large but also lighter in weight, so we can actually hang it up without destroying the wall itself.
Here's what I have in mind: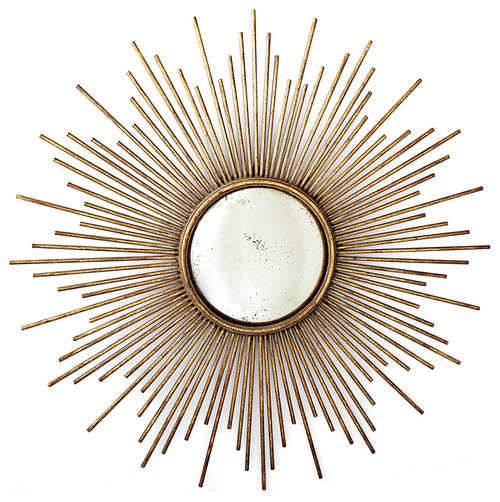 If anyone sees any of these lurking in a neighbor's garbage, please report promptly!
What about you? Has there been something that you've been trying to find for sometime and just.can't.seem to pinpoint?!